Welcome
RHINE-AHR-MARCH / 100 KM in 24 hours
Long-distance hikers, speed hikers and walkers have a new goal: Rheinbach at the foot of the Eifel. On the 07/07/2017, the first RHINE-AHR-MARCH (#RAM100k) will start there. The challenge: 100 KM by foot in 24 hours. Sportsmen and sportswomen from Germany and its neighboring countries will be delighted with this diversified route. It leads through one of the most beautiful regions in Germany. A signposted route with 11 catering places, a warm meal, the opportunity to change clothes and shoes at KM 50, as well as many motivated helpers will provide for consistent basic conditions. For novices in particular, the #RAM100k offers a good possibility to accomplish the seemingly unimaginable and to proudly arrive to the goal in Rheinbach after 100 kilometers.
The route: Nature. Culture. History.
Here on the Rhine & Ahr the old Romans already felt comfortable. And therefore, the first kilometers after the start in the glass town Rheinbach will lead above the Roman canal trail to the UN- and Beethoven-town Bonn. On the way of democracy, the night walk will start on the Rhine, the dawn at the Siebengebirge with a view of the Drachenfels, the museum of peace "Brücke von Remagen", the vineyards on the Ahr, the unique visit of the historic wine cellar in Walporheim, the red wine villages Dernau, Rech and Mayschoss,  the surge to the roof of the tour – the Kalenborner Höhe, the county and the large fruit plantations near Meckenheim and Rheinbach are further stations of the RHINE-AHR-MARCH 2017.
And, will you issue the challenge? Start with your training today. Secure yourself one of the 500 starting places over the 100-KM-distance. Register for the RHINE-AHR-MARCH 2017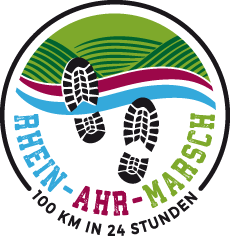 #RAM50k: From Remagen to Rheinbach
You don't want to march the complete 100 KM or you don't want to march during the night? Then register for the 50 KM-distance. For this, 200 starting places will be available. The start is in Remagen. For the 50s it will start on the 08/07/2017 at 8 am at the Rheinhalle. The goal will be the amusement park in Rheinbach as well.
Let's go to Rheinbach!
Rheinbach can be reached with the motorway 61 very well. (Brussels 220 KM, Torhout 333 KM, Bornem 256 KM, Luxembourg 218 KM, Maastricht 123 KM, Nijmegen 174 KM, Metz 255 KM, Calais 426 KM).
The train station Rheinbach can be reached from Cologne (via Euskirchen) and from the main station Bonn very well and quickly.
#RAM100k: ARE YOU READY FOR THE CHALLENGE?